Back on December 2nd of 2002, Powersim Software AS was established in Bergen, Norway, and this year we are immensely proud to celebrate our 20th Anniversary! Please join us when we revisit our history and take a trip down memory road.
The Foundation
Powersim Software is a technology company established based on the software tool Powersim Studio. This tool is built on the System Dynamics methodology created back in 1957 by Jay N. Forrester at MIT. The establishment of Powersim Software AS was unique since all employees were invited to be shareowners. We believe that this is one of the reasons that has given our company its strong culture based on dedication, endurance, and a staggering 17 years' average employment time. 
The development excellence team and tool
The Powersim team did not only envision that there would be a demand for such a software tool developed for the Microsoft Windows platform and was the first product on this platform. Our high-performing development team has always strived for excellence, and since 2005 Powersim Software has been a Microsoft Partner. 
Not only is Powersim Studio an excellent modelling tool, preferred by large companies, but we were also the market leaders in adding features that would support using this methodology when applied to large business projects with their demands for large volumes of data import and need for connectivity.
Early days
Powersim Software was founded with the mission to provide Business Simulations, both software tools, and consulting services, to companies around the world. As proprietary owners of the Powersim Studio simulation tool, we always made sure to keep up the software development of this tool to support our customer base with cutting-edge features. 
In the early days, we travelled the world creating Business Simulation together with customers from, among others: Denmark, Italy, France, South Africa, Qatar as well as Norway. During this period, we were all a team of young aspiring employees, free to travel and always eager to develop the best solutions for our clients.
Business cycles
After the first 5 years of developing many interesting and different models, we decided to make a strategic shift toward the energy market. We supplied the Norwegian oil company Equinor with several business simulations, one focusing on limitations in gas logistics and another studying the whole production line from wells to the market.  
Little did we know of the challenging times ahead in the oil and gas market and that it would hit us hard. During the first round of fluctuation around 2007, we were lucky to have initiated a large and exciting project with Total. We developed a high-end financial upstream business simulation model for them, and this uniform simulation model was rolled out through their planning departments in several countries.
Landing safely on both feet on the other end of this challenge, we were able to continue our work within the energy market, and with Equinor, the very first version of pForecast emerged. It was a desktop solution and was called Crystal Gaze. And with the great effort and undertaking from our management group, they landed a frame agreement with Equinor to develop this solution further, with a plan to roll out the solution throughout their organization.
During the second round of business fluctuations in 2016, with a stroke of luck, we ventured into a different type of project with Songa Offshore. As part of the services our team delivered there, our development team was challenged to create an automated e-mail handling system to follow up change management for procedures used offshore. Once more, the deliverance of this SKLM system with excellence was highly appreciated by the client and gave the development team a wider perspective on the further development of our core solutions.
The pForecast flagship
Development of the pForecast project has been an amazing journey for Powersim Software. First, this model was developed as a desktop solution in collaboration for Equinor, creating a system to aggregate all field analyses into a single report aimed toward the yearly RNB report. But soon, the users utilized pForecast's features with uncertainty also as an integral part of the prognosis work with monthly planning. With pForecast, they are provided with effortless planning, a uniform process for creating prognosis in the organization, modelling assistance, and finally, smooth updating on a more regular basis.  
As customary in the oil and gas industry, oil companies share insights and knowledge across companies, and thus in 2018, Equinor endorsed pForecast into the open market. Since then, the Powersim development team has worked with Aker BP to move the pForecast solution into a cloud solution. Today we deliver pForecast as a SaaS solution, including innovative features like; Incremental Analysis for the reservoir engineers and Corporate Roll-up to provide management with an overview of the company's assets in just a few minutes.
Our team is the core of our company
We reckon Powersim Software is a traditional IT-tech company when it comes to dresscode; the great talks are shared around the coffee machine. Lunches hold legendary discussions of great depth, solving most of the world's problems, accompanied by freshly baked Norwegian waffles or delicious cakes ever so often. During the Covid-19 pandemic, we learned how to continue working on all our projects from a distance using Teams. We have kept this flexibility twice a week to make it possible for our employees to better combine family life and avoid traffic congestion altogether, and we consider this our humble contribution to a more environmental society/community.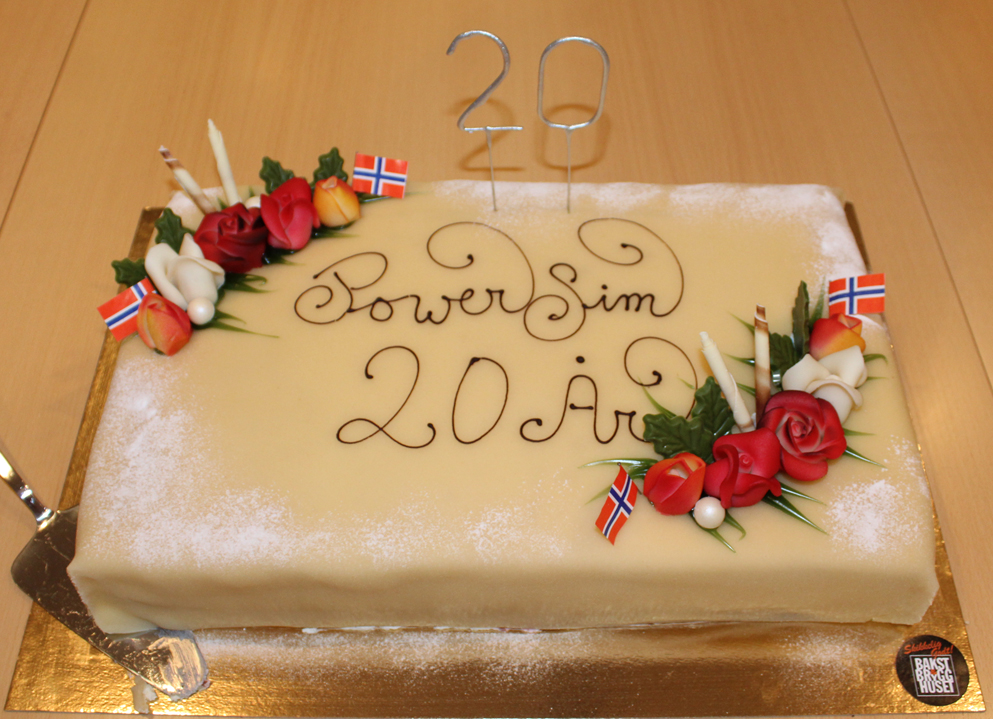 The upcoming years
Developing pForecast, we have realized that the outstanding forecasting capabilities of the pForecast software solution may very well be transferable to new and greener energy segments. First off, we plan to endeavour into a new vertical focused on Offshore Wind. We have teamed up with GCE Ocean Technology, a cluster with many members that will collaborate towards a common goal to find solutions and solve challenges, which have always been a focus in Powersim Software. 
Established in 2002 – Going strong in 2022 and onwards!
The Powersim team celebrates this joyous occasion with cake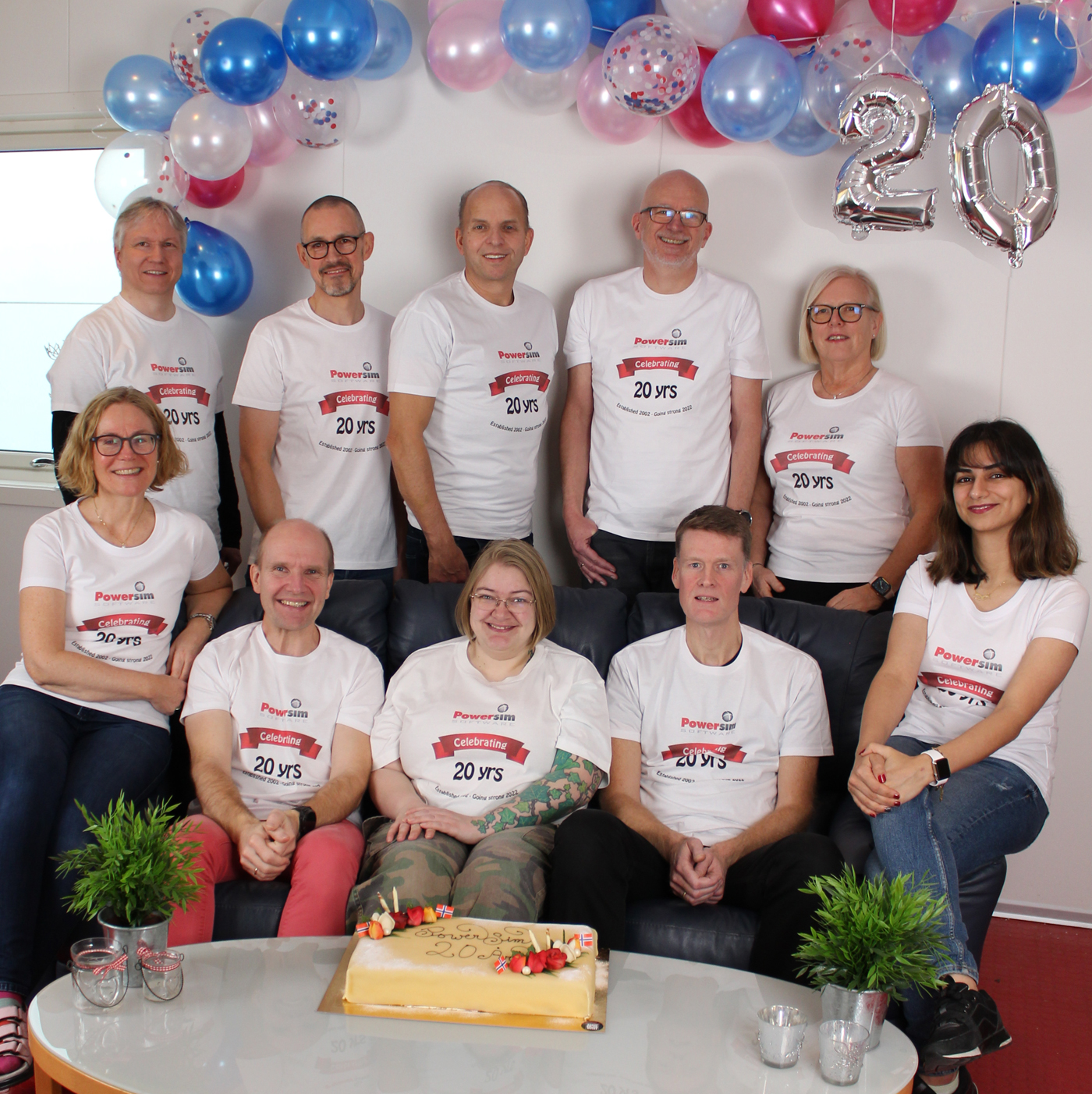 Related news: Powersim Software AS celebrates its 20th Anniversary with a 20% discount 
Related news: Contest – 20 years celebration continues!